Here's are a few examples of the interactive customization's we can add to your Google Business Tour. Once your tour is up and published on all Google Properties, we can enhance the code and add interactive features to spice things up and create a guided virtual tour customized for your Business Website and Social Media.
Menus for navigation.  Great for navigating large properties or multiple locations
Area specific Info Cards to describe your services and amenities
Clickable Hot Spots to highlight images and give additional information about products
Printable Coupons
Links to your web page menus, calendars and schedules
Embedded video.
Social Sharing
Once complete, we'll supply you with the code to add the new custom tour and new features to your website and social media.  You'll have two tours.  Your Business View Tour spanning all Google properties will tempt customers to visit.  The custom tour on your website will add interactivity and highlight all your best features. Check out the samples and take your Google Business View Tour to a whole new level!
AdvantEdge Business Centers
Here's an example combining 3 locations into one tour.  Fantastic for grouping territories or multiple locations within an area.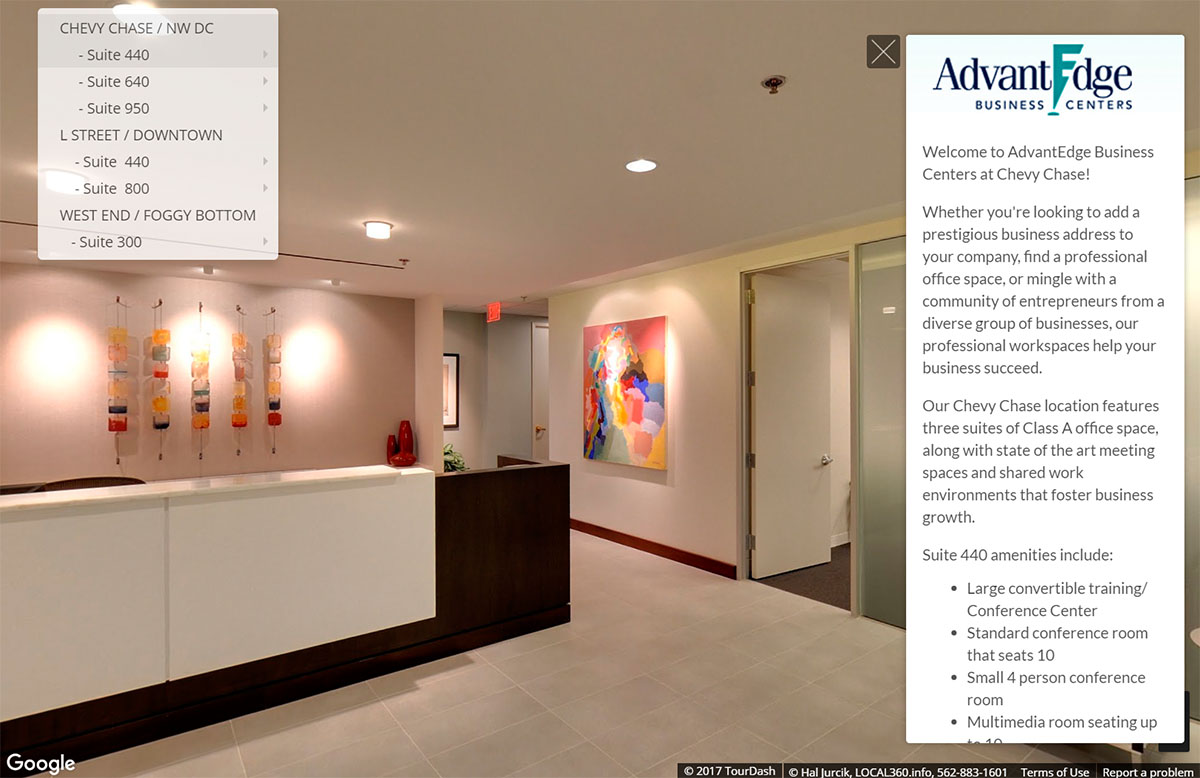 King Richards Antiques
King Richards Antiques is the largest Antique Venue in California.  In this example we created a graphic menu of images to make navigation more fun and inviting.  We've also added a few coupons for select vendors, an intro video and bubble jumps.  A fun example of what is possible.
Uptown Whittier City Tour
Here's a great example of co-operative advertising.  Cities, Chambers, and Uptown Associations can use a guided tour to sell the area as a popular destination for shopping and nightlife.
Click on image to view the tour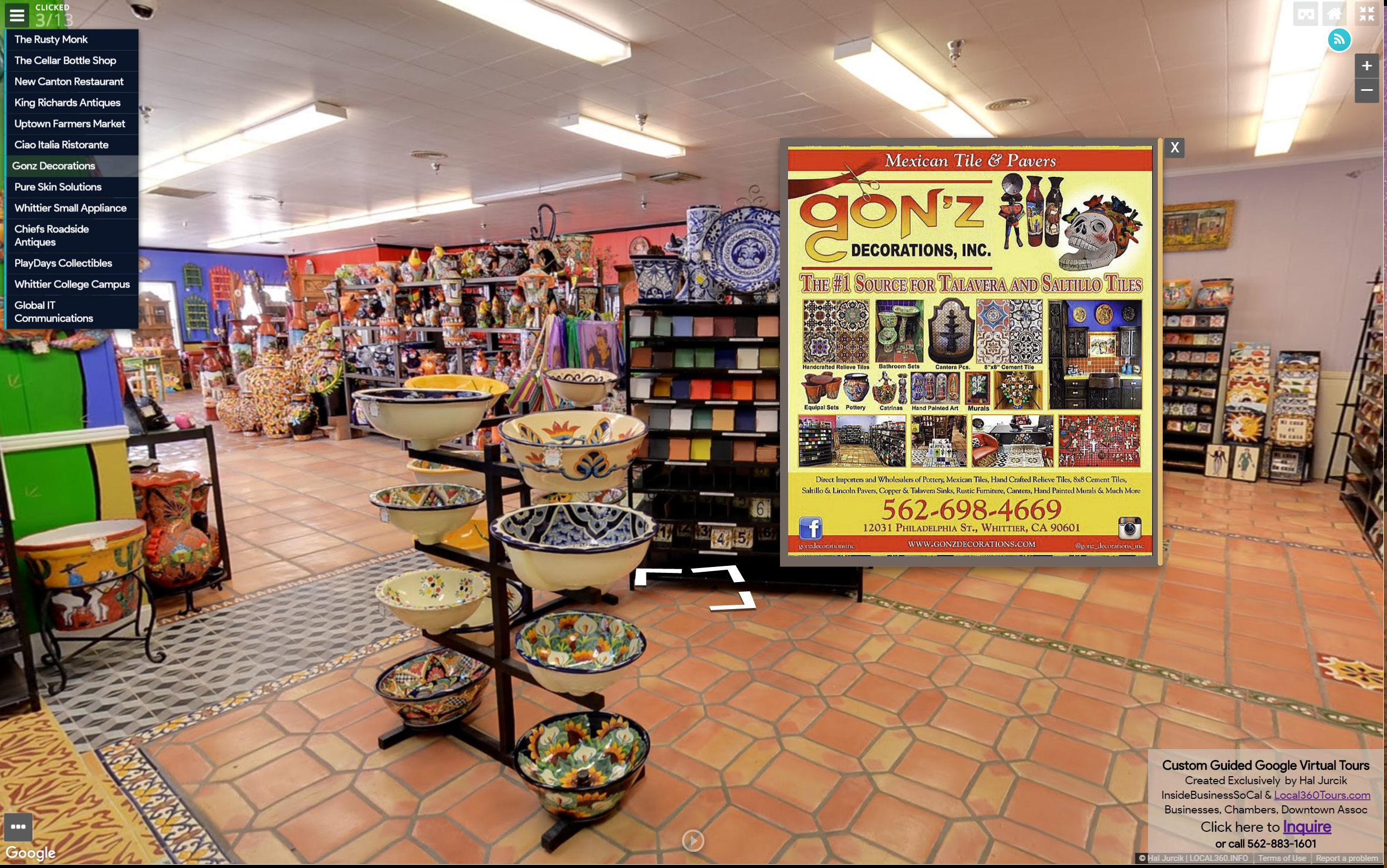 Pats 605 Cyclery
Here's a tour of a popular neighborhood bike shop.  The menu helps customers navigate to particular areas in the store and we've added info panels to highlight popular products.
Click on image to view the tour
. .
Pacific WorkPlaces                                                                  
Virtual Office and Co-Working Spaces
The newest trend is business today is the virtual office.  Rent space as you need it. By the hour, day, week or month.  All the advantages of a professional space and prestigious address, without the overhead.  Fantastic for small business start-ups.  Here's an example of a multi location tour with menu navigation for multiple city locations.  Take the tour, your next business office might be here!

Nissan of Mission Hills
Here's a customized tour for a large automotive dealership.  In addition to menu navigation to different areas of the dealership, we've added website links finance incentives, inventory, and service specials.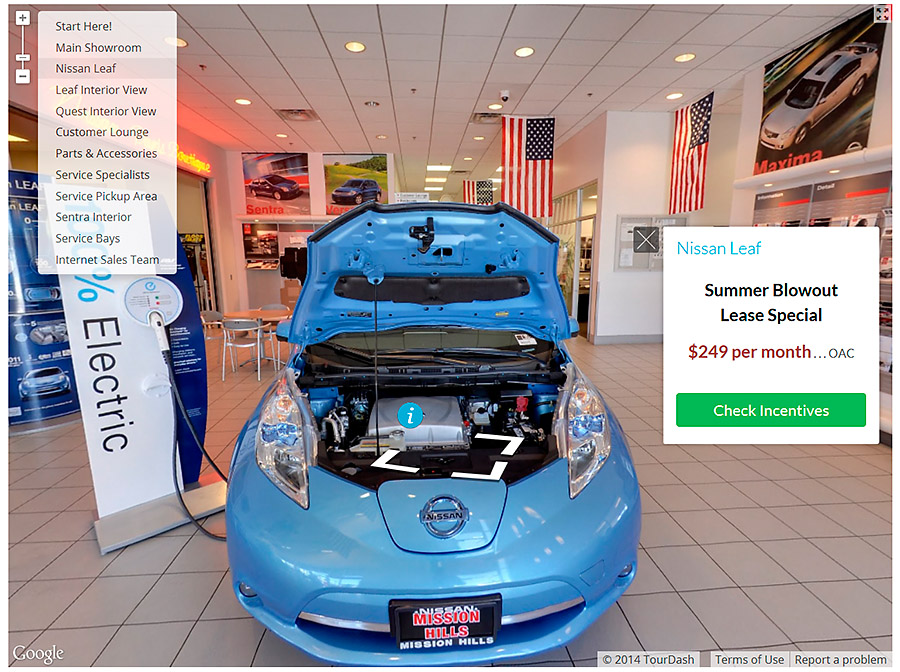 Historic Pio Pico Adobe in Whittier, CA.
Click on image to view the tour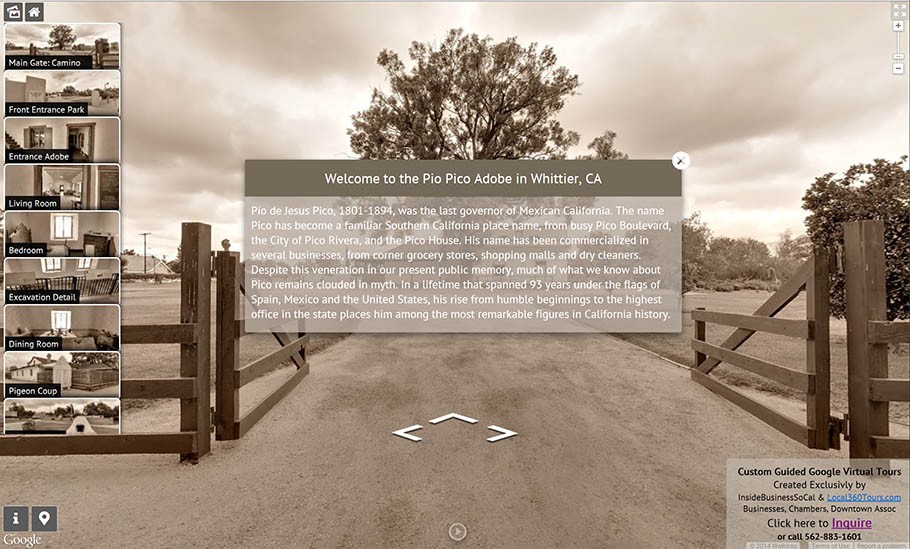 Puente Hills Toyota:
Click on the image to view the tour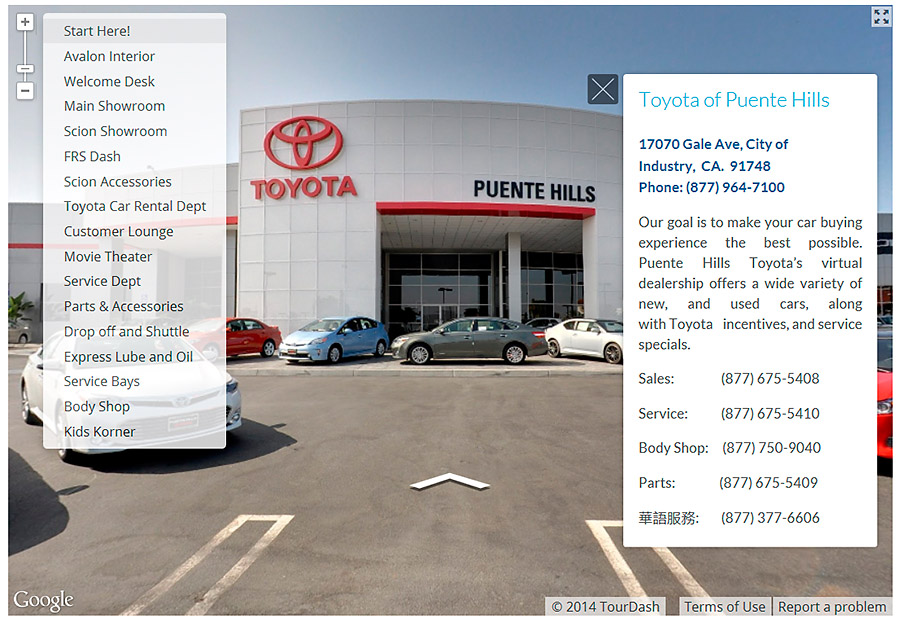 KLM Shoring Demo
Here's a construction demo created with a Drone.  Shoring is the process of excavating and bracing walls to prevent collapse while a foundation is constructed.  This is a project in Manhattan Beach, sandy soil, near the ocean.  If you have a set of VR goggles, have a look.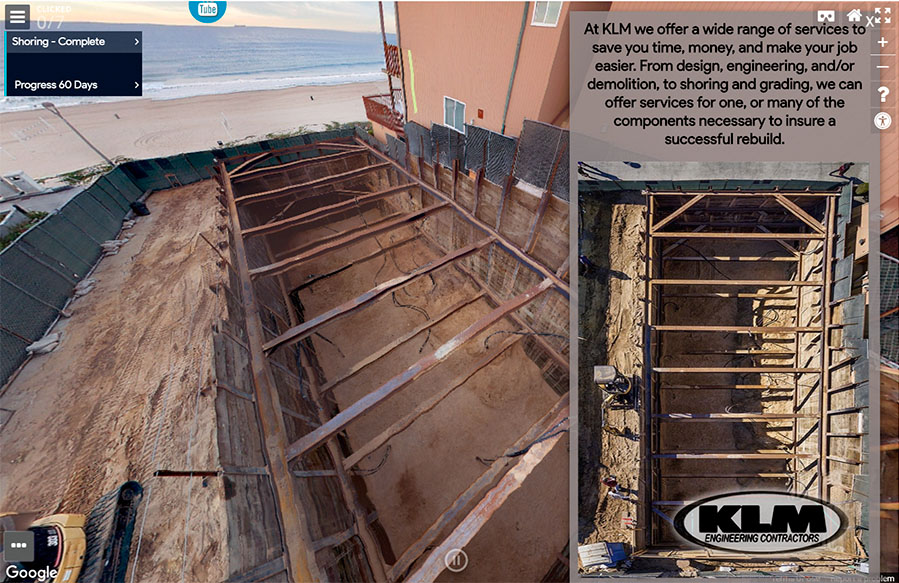 Pacific Business Centers – Carlsbad, CA